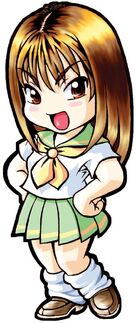 Kuniko Ashino (芦野 久仁子, Ashino Kuniko) is a fictional character in Kunio-kun series. Her first appears in Downtown Nekketsu Baseball Monogatari, she takes over Rika's place as team manager of Nekketsu High's Baseball team. She is also Kunio's biggest fan and chases him whenever the opportunity arises. She has a rivalry with Hasebe.
Localized version
In River City Ransom EX, she is known as Shel.
Ad blocker interference detected!
Wikia is a free-to-use site that makes money from advertising. We have a modified experience for viewers using ad blockers

Wikia is not accessible if you've made further modifications. Remove the custom ad blocker rule(s) and the page will load as expected.