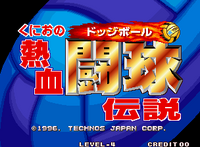 Kunio no Nekketsu Dodgeball Densetsu (くにおの熱血闘球伝説), also known as Super Dodge Ball in North American, is a dodgeball-based sports game for Neo Geo, released in 1996.
This is the final Kunio-kun game released by Technōs Japan before the company went out of business, no home version was released and the arcade version was produced in limited quantities.
Characters
Kenji
Miyuki
D.B. Maou (a boss character and non-playable)

Note: He has two forms in the game.
Ad blocker interference detected!
Wikia is a free-to-use site that makes money from advertising. We have a modified experience for viewers using ad blockers

Wikia is not accessible if you've made further modifications. Remove the custom ad blocker rule(s) and the page will load as expected.