Character Information



Riki in River City: Tokyo Rumble

Name:
Riki (Riki Samejima in the Downtown Nekketsu sub-series)
Name (kanji/kana):
りき (Riki)
鮫島力 (Samejima Riki)
さめじま りき (Samejima Riki)
Affiliation(s)
Hanazono High School (Cross Town High School in River City Ransom)
Team Thornley (Crash 'n the Boys: Street Challenge)
Year
Senior
Birthday
May 5
Blood Type
O (Unknown in Nekketsu Kakutō Densetsu)
Localized Name(s)
Jack (Renegade, Super Dodge Ball)


Ryan (River City Ransom)
Crusher (Crash 'n the Boys: Street Challenge)
Riki (りき Riki) is the banchō[1] of Hanazono High School and the second most recurring character in Kunio-kun series. He first appears in Nekketsu Kōha Kunio-kun as the first stage boss. He is the eternal rival of Kunio, with whom he shares many traits such as his roughed up appearance and his deep sense of honor. Unlike his rival, however, he has a more serious, quiet and down-to-business personality, as noticed in Shin Nekketsu Kōha: Kunio-tachi no Banka where he's the character that speaks the least.
In the Downtown Nekketsu series his full name is Riki Samejima (鮫島力 Samejima Riki, さめじま りき Samejima Riki).
Appearances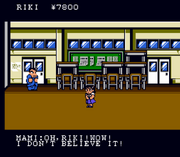 Hanazono Town is being threatened by the recent arrival of Munataka Industries. The chairman's only son, Yūji Munataka has taken control of various schools and has been terrorizing the neighboring areas, including the local high school. As the school's banchō, Riki has had enough. When Hiroshi is beaten up by Yūji's men, Kunio decides to put a stop to Yūji, thus Kunio and Riki join forces once again. They proceed through the town and reach the top floor of the industries, beat Yūji in a fight and then drag him to the hospital to apologize to Hiroshi.
Gameplay-wise, Riki plays identically to Kunio. He can only be used by the second player.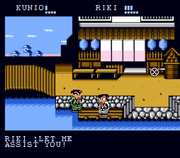 Riki makes an appearance in the period play as Rikigorō.
Localized versions
In Renegade, Riki was changed to a character named Jack, who bears a resemblance to Luther from the seventies film The Warriors.
In the NES version of Super Dodge Ball, he is also known as Jack, a captain of Team Pro All-Star.
In River City Ransom, Riki was renamed Ryan.
In Crash 'n the Boys: Street Challenge, Riki was renamed Crusher (shortened to Crush in-game), a member of Team Thornley, who replaces the character named Raphael in the original game.
In River City Ransom: Underground, Ryan's full name is shown as Ryan Samejima in the school's year book on the file select screen.
Trivia
His nickname is "Mach Punch Riki". The inspiration for the Mach Punch comes from the Speed Racer manga (which was known as Mach GoGoGo in Japan). Animating the Mach Punch in the original arcade game (when Riki grabs Kunio and punches him) reminded Kishimoto of the Mach GoGoGo anime[2].
Riki has a height of 180 cm.
According to Yoshihisa Kishimoto, Riki's name originates from a notorious yakuza.
The character Kazuma Kuwabara from the anime Yu Yu Hakusho bears a close resemblance to him due to his Pompadour hairstyle and his uniform color.
In Nekketsu Kōha Kunio-kun, Riki's surname was Hibari. Samejima was introduced as his surname in Downtown Nekketsu Monogatari. However, according to Yoshihisa Kishimoto, Riki doesn't have a surname and is simply named Riki[3], just like the rest of the characters that debuted in Nekketsu Kōha Kunio-kun (Wataru is one exception).
Kunio's catchphrase, "Namen'nayo!" (なめんなよ!, roughly translates to "Don't mess with me!"), originated from Riki in the original arcade game as well as in the Famicom version. He originally said "Namen'nayo kono yarou!" (なめんなよ この やろう!, roughly translates to "Don't mess with me, punk!").
Gallery
References