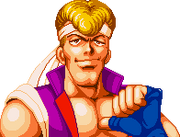 Shinji is a fictional character that appears in original Nekketsu Kōha Kunio-kun, a beat-'em-up game in the Kunio-kun Series. He is the leader of a bōsōzoku gang known as "Yokohama Funky".
Appearances
Nekketsu Kōha Kunio-kun
Shinji was first debuted in original Nekketsu Kōha Kunio-kun as a 2nd Boss in Stage 2 along with a bōsōzoku gang.
Kunio Tachi no Banka
Shinji makes an appearance in the game as one of the main antagonists and a boss. Shinji takes over an amusement park along with some other gang members.
He is one of the unlockable players in the game. According to his in-game bio, he was Riki's Soccer Club Senior in middle school. After his stint as a badass, he changed his ways and dropped out of high school. He currently works at a factory in his hometown.
Trivia
Ad blocker interference detected!
Wikia is a free-to-use site that makes money from advertising. We have a modified experience for viewers using ad blockers

Wikia is not accessible if you've made further modifications. Remove the custom ad blocker rule(s) and the page will load as expected.