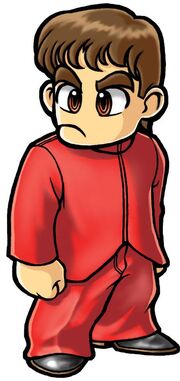 Shun Mochizuki (望月 駿, Mochizuki Shun) is a fictional character in Kunio-kun series. His first appearance in Downtown Nekketsu Monogatari and he is a one of the "Four Devas" of Reihou Academy. Known for his quickness in combat. He has a younger brother named Tsukasa Mochizuki, who appears in Downtown Nekketsu Baseball Monogatari. His closest is Ryoma Hayasaka.
Localized versions
In River City Ransom, Mochizuki was name Turk.
In Crash 'n the Boys: Street Challenge, Mochizuki is known as Wheels (a.k.a Charles Edward Darlington), a member of Team Lincoln High School.
Ad blocker interference detected!
Wikia is a free-to-use site that makes money from advertising. We have a modified experience for viewers using ad blockers

Wikia is not accessible if you've made further modifications. Remove the custom ad blocker rule(s) and the page will load as expected.